Amy Barbaro
The recent emergence of two works by Amy Barbaro in the USA has confirmed her place in the Art World. So far these are the only known works signed Amy Barbaro.
The two watercolour studies were offered at auction on 6th June 2014 by The Pyramid Society, an Egyptian Arabian Horse organization. The paintings were from the collection of Douglas B. and Margaret Cullen Marshall of Gleannloch Farms. They achieved $11500.00 and were purchased by a private buyer in the USA.
Here is a copy of the official auction description :
Description
These vibrant watercolors depict North African village scenes typical of the Orientalist genre. One is of a village square where a man on camelback and several bystanders listen to musicians and watch a snake charmer with a cobra. The other features a market scene, with a caravan of camels and riders entering the square, while villagers are gathered around a stall selling pottery. A felucca sailing on the body of water in the background of one of the paintings indicates that Egypt may have been the intended setting. Amy Barbaro (d. 1937) is listed in the English census as a watercolor artist and was married to the Italian artist Giovanni Barbaro, whose works date to the late Victorian and Edwardian era. He often painted Orientalist themed works under his signature. Amy's maiden name was Dawson, and her work under this name was displayed at the Royal Society of British Artists. Image sizes: 16-1/2" x 23-1/2", Framed 29" x 36" 1/2"
View the images below :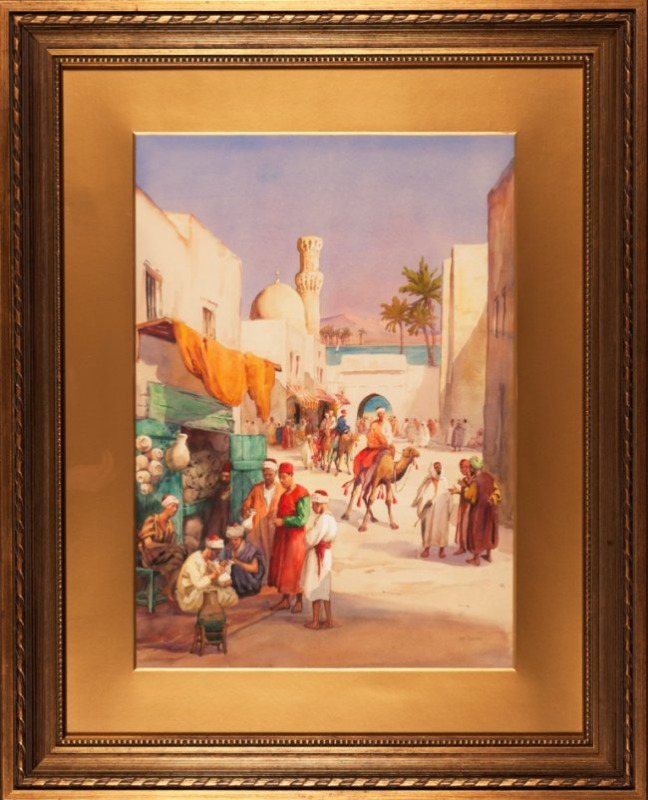 Egyptian Street Scene, watercolour on paper, signed Amy Barbaro. c1910.
Egyptian Street Scene with Snake Charmer and Figures, watercolour on paper, signed Amy Barbaro. c1910.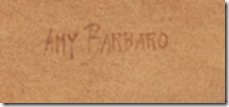 Amy's signature on painting 1.

Amy's signature on painting 2.