Hassan el Yashmid
Posted on
Hi Roger
I am in the midst of a lockdown clearout of our Orientalist style studio room.
Some while ago I bought a framed print(?) of a souk doorway and street on Ebay for £5. The picture is signed Hassan el Yashmid.
On receipt I discovered that the image had been gummed to coarse brown cardboard of the sort I can remember from childhood in the early 1960's.
Sadly I also discovered that the seller had been a little economic with the truth and not mentioned that the back must have got damp at some stage and this has stained and wrinkled the image surface. This is a real shame as the image has a lot of charm about it and the frame is really rather good with its Ikat-like shapes and clearly a vintage item.
Had the picture cost me more money I would have kicked up a fuss. But given the circumstances I didn't and put it into storage ready for the refurbishment of the studio room.
Fast forward and I am thinking whether the print can somehow be salvaged. Perhaps putting it under glass would help flatten the surface.
I saw the signature and punched that into Google and Lo and Behold I found your website!
I've attached some photos for your inspection. I think it is a print as following your comment to another viewer about using a magnifying glass I can see a kind of 'squared weave' to the image.
James Laming
Reply : I am contacting you directly.
See images below :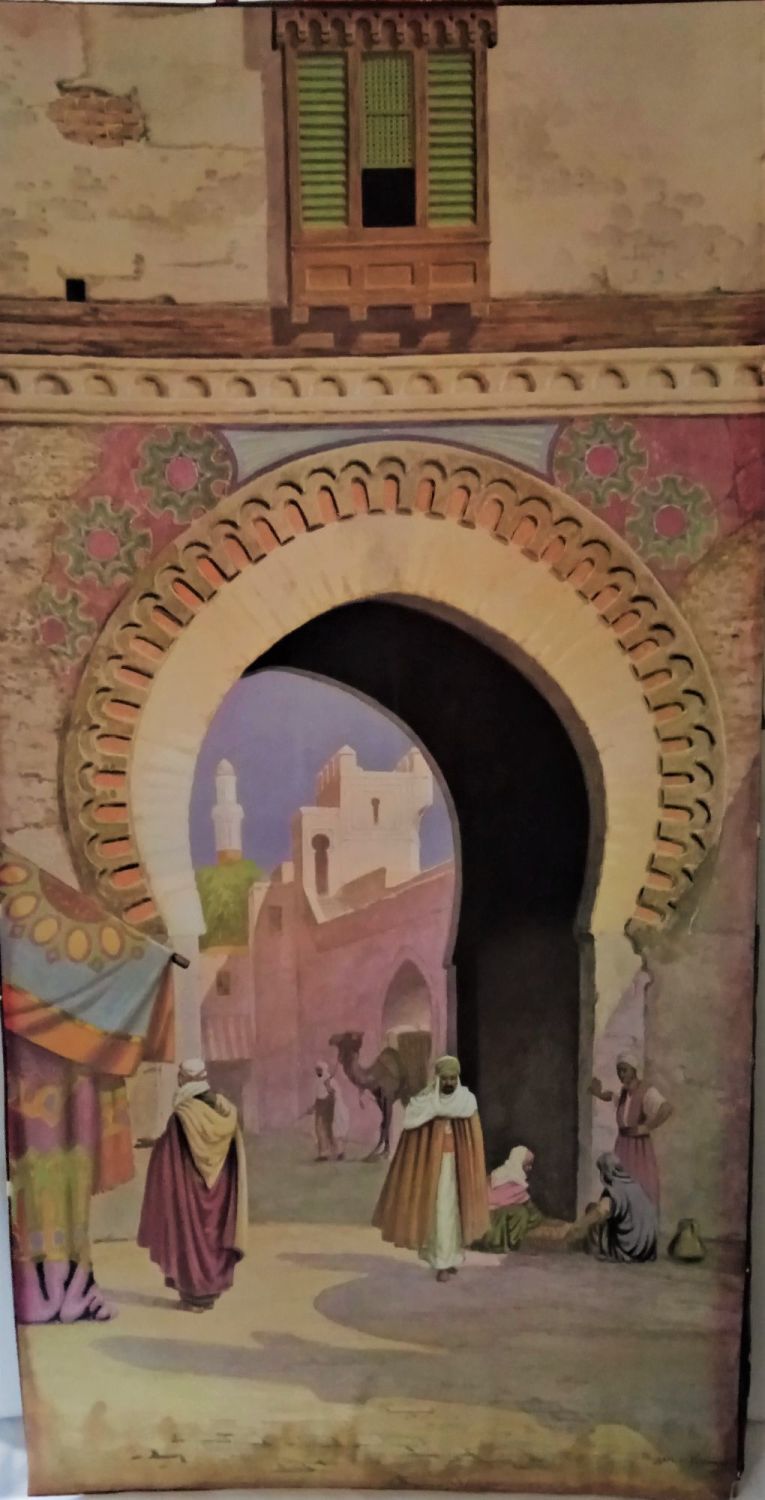 Water damage to lower edge :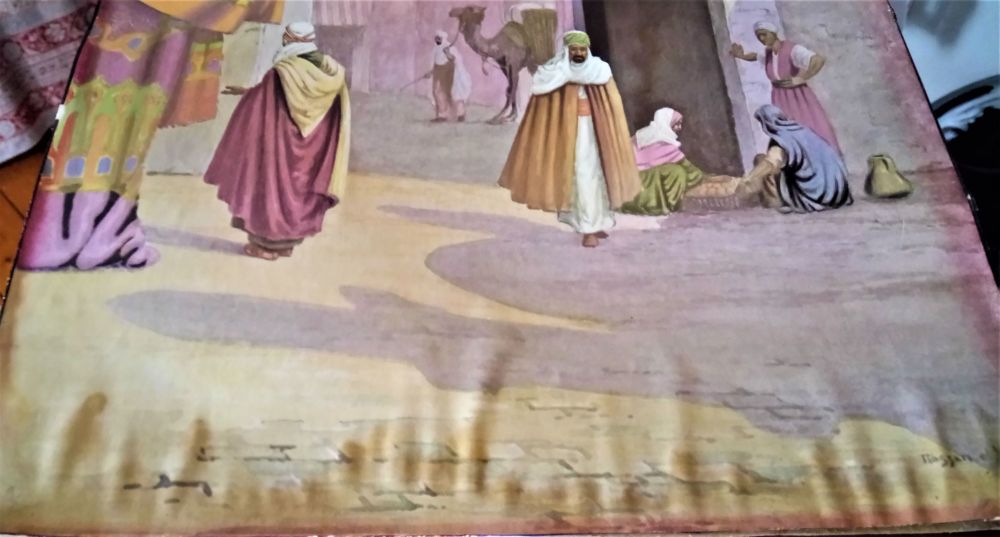 Original frame :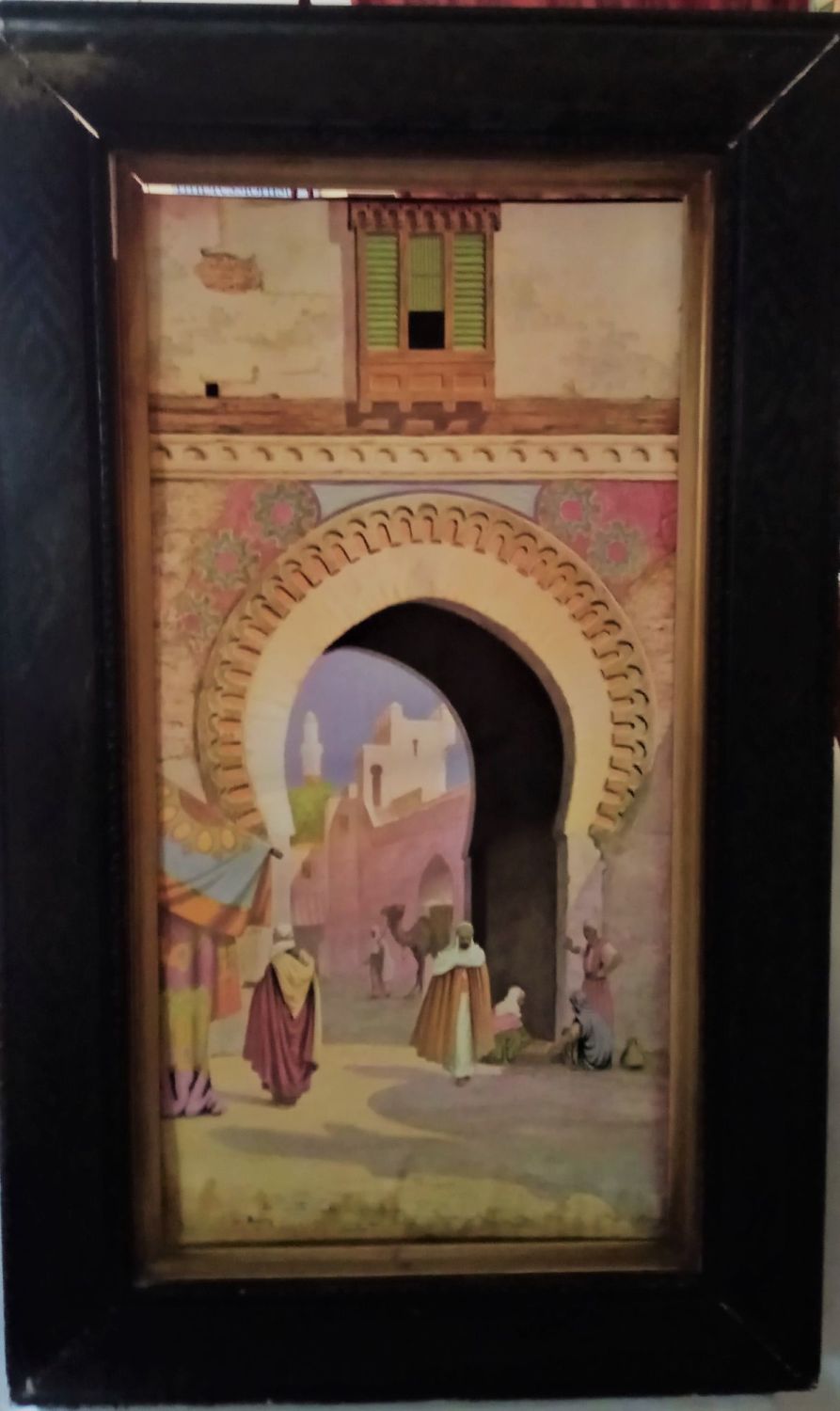 Regards,
James
James Laming
26.03.2021
Hello Roger,
Thank you so very much for your reply yesterday and also this morning's message.
I really appreciate your enthusiasm that I should persevere with the print being re-mounted in its frame though I think you may not have picked up on the fact that the damp damage was not just confined to the rough cardboard backing.
It had soaked through right to the image on the front and both stained and bubbled it.
I'm resending the relevant photo I buzzed over yesterday which shows this.
However, once they're allowed to open again I will take it to our local framers and see what they advise. As I said putting some glass in will undoubtedly help flatten this area and others or at least as much as it ever will.
Since our 'conversation' yesterday I have in fact made a discovery which I think is likely to be of interest to you .........I have another El Yashmid picture!
And, one whose image I haven't come across on any of the on-line image feeds.
The framed picture was another Ebay find and cost me all of £17. It arrived pretty grubby and after cleaning up I discovered it had a terribly "treacley" varnish which I stripped back.
It was not until I had read your blog about the artist and the photos that I went back to inspect my picture more closely and discovered a very tiny signature on the image. It's just to the right of the little prickly pear - see Photo 2, just above the mount.
Finally, I'd be very pleased to have my "story" added to your blog and perhaps you might like to include this latest discovery too?!
See images below :